ENTERTAINMENT: GLAAD Honors Katy Butler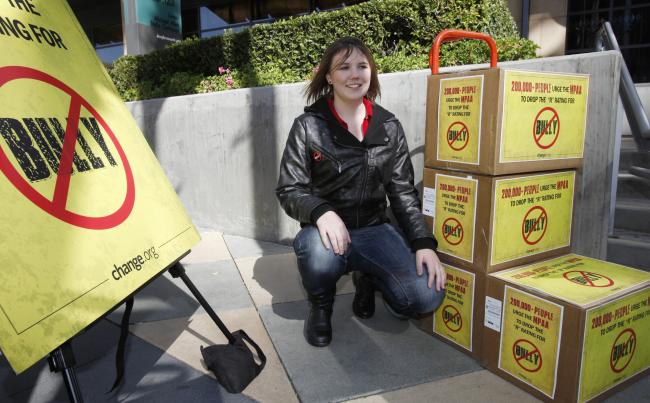 Each year GLAAD awards those who have made an impact and tackled the difficult issues about LGBT. Here we shed the light on the efforts of one young girl. 
Bully, which was originally named The Bully Project, is a documentary film about bullying in US schools. Director, Lee Hirsch, follows the lives of 5 students that face bullying on a daily basis. The film premiered at Tribeca Film Festival and is set to release on March 30th. With it's strong images and topic, the film received a "R" rating, limiting those who can view the film. So, began the push to change the R rating to PG13.
The newest members of this action includes Meryl Streep, Johnny Depp, and Justin Beiber. Each encourage the public to stand up, and draw attention to this film and its important message. Ellen DeGeneres, Demi Lovato, Drew Brees (New Orleans Saints quarterback) and 20 Congress members have already signed the petition.
And who started this petition… just a 17 year old Michigan high student. Katy Butler, who identifies herself as a lesbian, had delivered more than 200,000 signatures on her Change.org petition to Los Angeles office of the Motion Picture Association of America few days ago. Katy will be honored by GLAAD, and Ellen DeGeneres acknowledged her efforts.
In The Advocate, Butler gave an exclusive statement:
that "we sent a loud and clear message to the MPAA that the movie Bully shouldn't be given an R rating." She hopes that showing the movie in classrooms means it would reach "those students who need to see it he most" and help improve students' lives. "Every day in middle school and high school in America, students are bullied." she said, "this movie, if given a PG-13 rating, could reach those students as well as bullies themselves and help put a stop to the epidemic of school bullying in our country."
One step at a time, we will get rid of bullying.
Notes
sarahisbombaf1 likes this
bullymovie likes this
boypopproject posted this